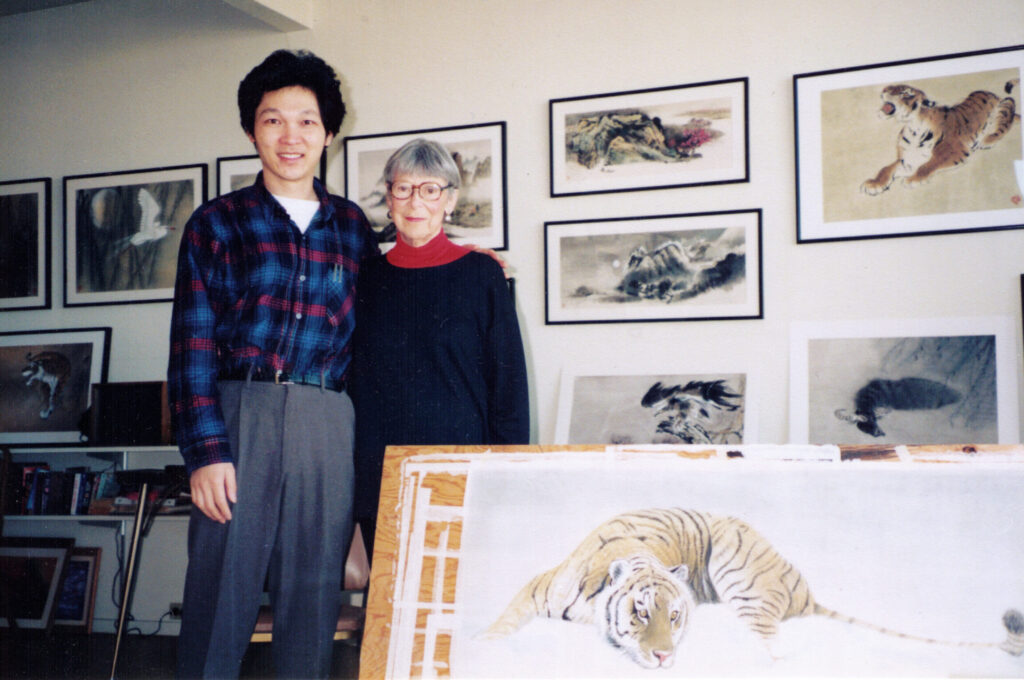 A Preface to Eda's Own Words
It is truly ironic that a lady of so many words left behind so few of her own.  As a calligrapher, book binder, proof reader, graphic designer & draftsperson she was always immersed in producing text.  With the exception of her annual one-sentence Christmas card it was very rare that Eda would express herself in any public fashion.
Luckily for us, the first exhibition of her Chinese brush paintings required her to prepare some sort of an artist statement.  At this time she was also receiving steady inquiries from Ming Ren's aspiring painting students, so she penned this rare personal summary of her painting experience.
Her attitude was always one of encouragement, and while she was happy with her artistry she was also loathe to brag.  She often said to students "If I can do this, so can you".  So it is certainly understandable when she sums up her background as a "30 year drafting job" and "10 years of assorted classes".  It is none the less a high water mark for understatement.  And yes, she did paint steadily until the last few months of her life. -DS
MY INTERESTING PROJECT
I retired from a 30-year drafting job in 1978 and for the next 10 years I enjoyed gardening, sewing, reading, attending lectures and taking assorted classes. When in 1989 I heard about a class in Chinese brush painting at the City College of San Francisco, I enrolled at once, and so began an adventure that changed my life. In many ways Chinese brush painting has become my life.
I took my first lessons in Mr. Ming Ren's class at City College, and for the last three years have been taking private lessons from Mr. Ren. After all the initial failures, and the difficulties in learning the unique technique of Chinese brush painting, I found that by practice and by the patient instruction of Mr. Ren, I began to experience a medium that gave me more joy and satisfaction and excitement than anything I had ever done before.
I remember how awkward I was in my first attempt to hold the brush, and how embarrassed I was when my hand shook, and every stroke I made looked worse than anyone else's in the class. My embarrassment prevented me from painting very much in class because I knew that I was the worst student, and my hand froze when anyone looked at what I was doing. So I took the assignments home and painted only when I was alone. This was more comfortable for me, but it was still not easy to learn to control the brush, loaded with ink, and make strokes on the paper that didn't look like chicken scratches or shapeless blobs. But even with the frustration, there was always excitement in using the brush and seeing what kind of a stroke came out.
When the brush began to become a friend instead of an adversary, I purchased several books with reproductions of landscapes by Masters and tried very hard to copy them. This gave me a lot of practice in brush work and use of color, and once in a while when I was pleased with my effort I felt great elation. Mr. Ren was very cautious with his praise, and when I would bring a painting to class that I felt proud of, he very gently and carefully explained that to be satisfied with one's work could be an obstacle to further development. So I continued to paint landscapes, trying to improve my technique by constant practice using different brushes and papers, and so became more comfortable with the medium.
Learning to use the Chinese brush has made my hand steadier, my eye more sensitive to form and color, and my spirit more serene than I have ever known. My life has been greatly enriched, and I hope to continue to paint for as long as I can hold a brush.
Eda Kavin